Metocean Training for Surveyors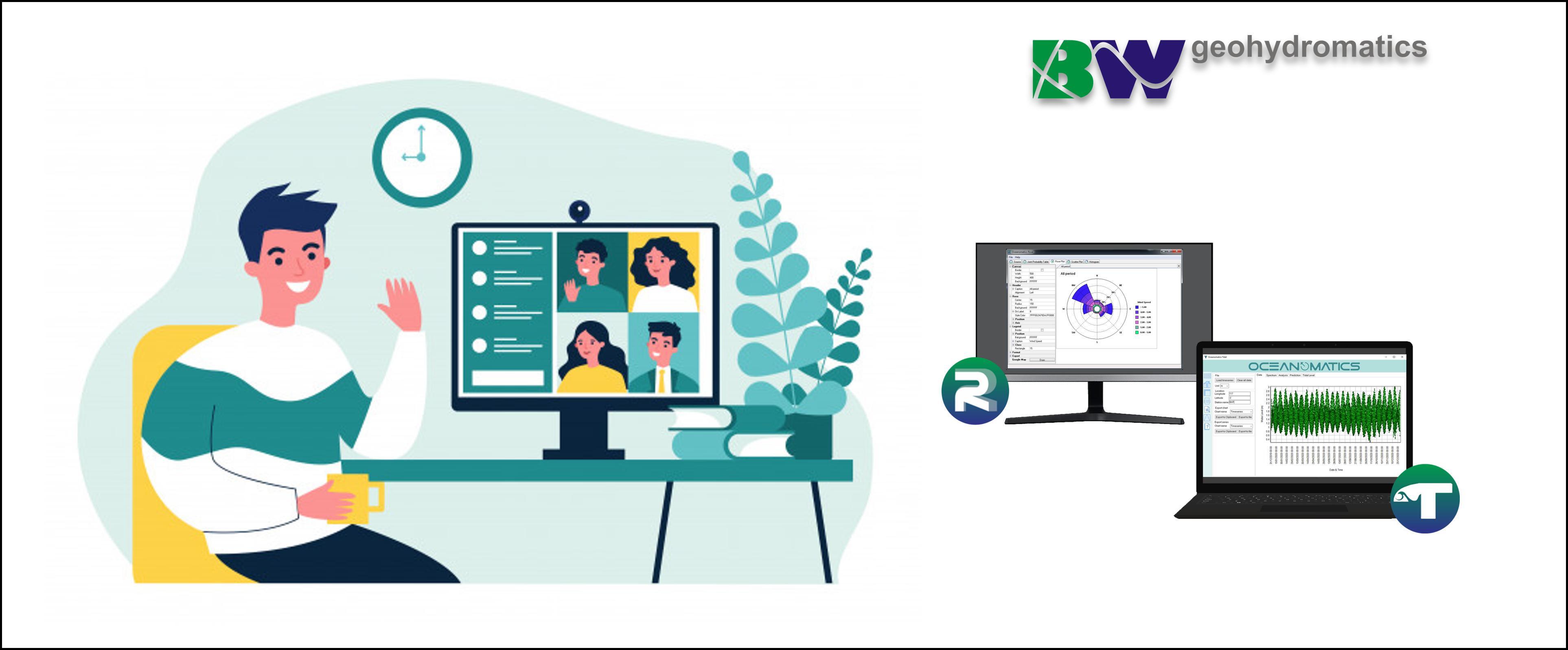 (SC | 09/07/2021)
"How many areas that a tide observation station ideally represents?"
"Which instrument is more effective to get tidal data in choppy waters and busy shipping lanes?"
"For construction work purposes, what is the best duration in collecting metocean data?"
Questions kept popping up until the time ran out.
Even in this pandemic situation, the enthusiasm for learning is still burning inside almost 30 data analysts and field surveyors in geology, geophysics, and geodesy, who joined the online training class of "Tidal and Metocean Analysis". The training was held by BW Geohydromatics on 5 – 8 July 2021.
The discussion on tidal prediction and analysis related to the hydrographic survey delivered by Ir. Dr.rer.nat. Wiwin Windupranata, discussion on the basic analysis of Meteorology and Oceanography with Ir. Dr. rer.nat Poerbandono, as well as processing Metocean data with Aradea R. Hakim, S.Si., M.Si., M.S, were enthusiastically followed by the participants. Their practical experience was enriched and refined in this training, especially through field study cases.
BW Geohydromatics hopes that all participants can apply the knowledge they have gained from these 3 days training in next field practices, so that their performance will continue to improve.
See you at the next training!
—–
---
"Satu stasiun pengataman pasut idealnya mewakili berapa luasan area?"
"Mana alat yang lebih efektif untuk mendapatkan data pasut di area perairan yang berombak dan merupakan jalur pelayaran yang ramai?"
"Untuk pekerjaan yang bersifat konstruksi, berapa durasi terbaik untuk mengumpulkan data metocean?"
Pertanyaan demi pertanyaan diskusi terus bermunculan sampai waktu yang ditentukan habis.
Walau dalam suasana pandemi, semangat belajar sangat terasa dari hampir 30 orang praktisi data dan survei lapangan di bidang geologi, geofisika, dan geodesi, yang bergabung dalam kelas pelatihan online "Analisis Pasang Surut dan Metocean". Pelatihan diselenggarakan BW Geohydromatics pada tanggal 5 – 8 Juli 2021 lalu.
Diskusi tentang prediksi dan analisis pasang surut yang berkaitan dengan survei hidrografi yang disampaikan Ir. Dr.rer. Nat. Wiwin Windupranata, diskusi tentang dasar analisis Meteorologi dan Oseanografi oleh Ir. Dr.rer.nat Poerbandono, serta praktik mengolah data Metocean bersama Aradea R. Hakim, S.Si., M.Si., M.S diikuti dengan antusias oleh para peserta. Pengalaman praktis mereka diperkaya dan disempurnakan dalam pelatihan ini, terutama lewat pembahasan berbagai kasus yang dialami di lapangan.
BW Geohydromatics mengharapkan seluruh peserta pelatihan dapat menerapkan pengetahuan yang didapat dalam 3 hari pertemuan ini dalam tugas-tugas lapangan yang sudah menanti sehingga kualitas kinerja mereka terus meningkat.
Sampai jumpa di pelatihan selanjutnya!